Introducing our new pan-European project Future Festival Tools (FFT). In the FFT consortium we are a group of Europe's leading organisations in events and sustainability like Green Events, Julie's Bicycle , GO Group, Chris Johnson Consulting , Native Events , Green Music Initiative, Vision 2025 and Yourope – The European Festival Association working together with expert organisations like NCASS, LABA, European E-Learning Institue and momentum.
Future Festival Tools is a project that brings us together to tackle the festival and event industry's environmental impact by creating tools, resources & training for the industry. We empower event professionals across Europe to be future-ready, with green competency, tools and personal certification.
During ADE Green 2022 at Amsterdam Dance Event a group of forward-thinking industry leaders joined the Future Festival Tools e-learning session. They did a deep dive into the topic of energy and received a certificate on the spot! We congratulate the first e-learning course students with their certificates, who have also provided valuable feedback to improve the e-learning modules further for all event professionals.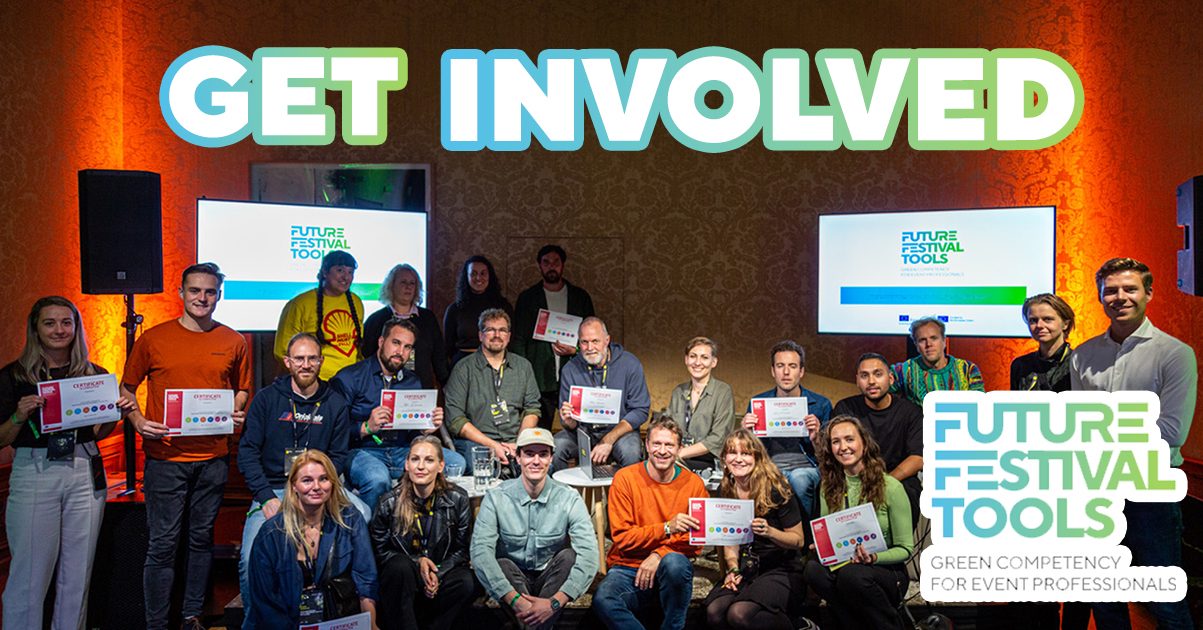 Are you curious about the Future Festival Tools and e-learning modules? Whether you are a festival director, work in production management, are a sustainability leader, or are just starting out in the festival world – Future Festival Tools will be able to support your practice. Do you want to test the first version together with the trailblazing organizations behind this project?
Please sign-up for the e-learning and/or self-assessment testing session. In this session we will briefly explore the Future Festival Tools and get a chance to experience, discuss, and offer feedback on this new resource on behalf of Europe and the future!
You can register for upcoming sessions here:
E-Learning Testing Session
Hosted by Chris Johnson (Green Events & Vision 2025) Wednesday 16th November
10.30 – 12.00 CET
Self-Assessment Testing Session
Hosted by Richard Phillips (Julie's Bicycle)
Tuesday 22th November
10.30 – 12.00 CET
Please register yourself as a user on the Future Festival Tools course before the session(s)!